Asian Student Commission
ASC Alumni
Asian Student Commission Alumni
This page will showcase the various directors and coordinators/interns from previous years. Enjoy!
2016 – 2017
Director: Sam Le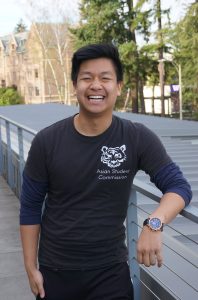 Senior | Anthropology & Sociology
"Hello, my name is Sam Huỳnh Lê and I am a Vietnamese-American born of refugee parents…"
That is the start of my introductions. Introductions for when I present to senators, representatives, the Governor, professors, administration, and any stakeholder that needs to know my families story, my communities story, and ultimately my story.
Being Vietnamese gives me a sense of pride. Being able to know that my parents endlessly sacrificed everything since the day they came onto this land of "opportunities" with nothing and survived to reach that all so elusive "American" dream, is something to be proud of. I live, sweat, and bleed for my success to lift that burden off of them. I currently am invested in lobbying and advocating for the equitable opportunity for students of Southeast Asian, refugee, and immigrant background to succeed as they are falling through the cracks of our education system, just as family members of mine had. I may not speak Vietnamese well, I may not be considered "fully" Viet, but being Viet has changed and dictated too much of my life to neglect it. I may have not wanted to be with the community before, but the community has done too much for me, so everyday I embody a mission to give back, not only to the Vietnamese community, but too all marginalized, especially other Asian and Pacific Islander communities.
Assistant Director: Eric Chen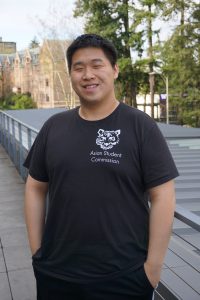 Senior | Finance, Information Systems & Human Resources
Hi there! My name is Eric–and this will be my fourth year with ASC! I got involved in the Asian Student Commission after attending an informational ASUW open house event during Dawg Daze. I've had the pleasure to be apart of the commission through its changes in leadership and structure. I'm so grateful to be appointed as the first-ever Assistant Director this year! My job focuses around managing events and working with the coordinators/interns. ASC will always have a special place in my heart and I love the opportunities to have dialogue of Asian/Asian American identity. A big part of my identity is my Taiwanese heritage and I'm glad I can have another medium to express that through.
Coordinators
Lead: Teresa Ling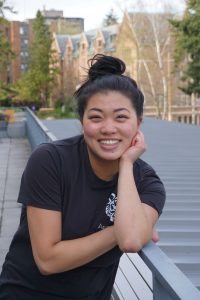 Senior | Marketing & Information Systems
Hello my name is Teresa Ling, but my friend Eric always calls me Terry.
"How would you describe identity?"
Before UW, my identity as an Asian American had always been a constant battle between being Asian or being American. From being "too" Asian for bringing homemade dumplings for lunch while everyone else was eating cheese pizza to being "too" American for speaking Taiwanese with a heavy accent, I could never find the right balance. But at UW, it's hard to ignore what an amazingly diverse community you're surrounded by and how supportive everyone is of each other's differences. It wasn't long before I learned that there's no solid definition for what it means to be Asian American; everyone has their own unique interpretation. Learning how to be comfortable with my own definition of Asian American allowed me to appreciate another huge piece of my identity: dance.
Internal Programming: Young Cho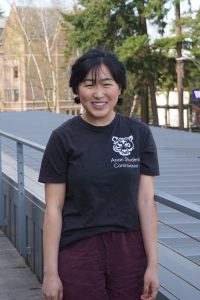 Senior | Biology & Law, Societies, and Justice
Hello! My name is Young and I am the Programming Coordinator for ASC. I joined ASC because I wanted to get in touch with my Asian heritage. Being a part of ASC has opened my eyes to various cultures within the Asian community. I was able to meet amazing people as well as contribute in many social and educational events that encourages finding your Asian identity at UW.
Marketing/Communications: Nina Dubinsky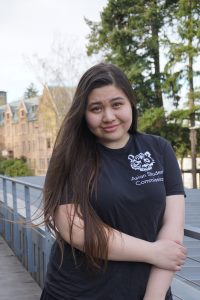 Senior | Communication & Interdisciplinary Visual Arts
Hi, my name is Nina! I am a communication and interdisciplinary visual arts double major and senior here at UW. Aside from ASC I am also the creative director of the UW chapter of the Public Relations Student Society of America. You will likely catch me around my home city Seattle taking photos or doodling in my sketchbook! I joined ASC this year in hopes of getting in order to help other Asian and Asian-American students like me by hosting events and giving a safe space on campus where they can thrive. I love that through ASC I've gotten learn more about other people's cultures and identity and what being Asian means to them it also helps that I get to work alongside a great group of individuals to make the events we put on possible.
Internal Outreach: Austin Wu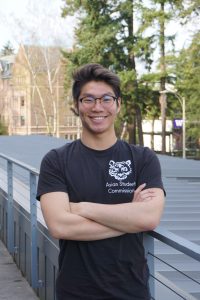 Freshman | Biology & Business Administration
Hey y'all! My name is Austin and I'm a first year here at the U! I joined ASC in the fall because I wanted to get more involved with student affairs on campus. ASC was a great opportunity for me to not only do that, but get experience working in a team as well. As an intern, I've had so much experience doing things like programming, outreach and networking. The leadership is incredible and the staff is a lot of fun to be around. I love what ASC offers to the UW community and its members.
External Programming: Marissa Chong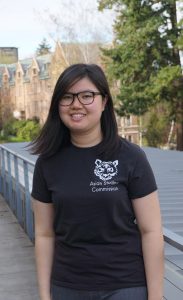 Freshman | Computer Science
Hi, my name is Marissa! The reason why I joined is ASC is because I wanted to be more involved in the Asian community on campus and being an International student, I wanted to learn the differences of cultures between Asians and Asian Americans. I also wanted to challenge myself by getting out of my comfort zone by being involved on campus. What I like about ASC? The people and the events! Everyone is awesome in ASC and the events are interesting and fun to organize. Although things can get really busy but the end results are always worth it!
Public Relations: Carolyn Lee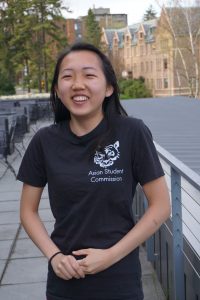 Sophomore | Economics & Informatics
Hi, my name is Carolyn, and joining ASC was a big highlight of my year. It's been really encouraging to see the work that ASC is doing within the Asian American community on our campus, and how ASC brings people together from different cultures, different backgrounds, and different walks of life. I look forward to seeing what ASC will continue to do and I am excited to be a part of this organization.
Policy/Legislative Affairs: Emily Tasaka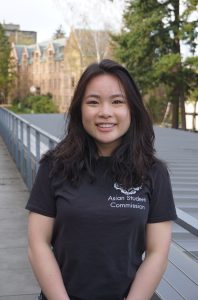 Sophomore | Communication & Political Science
Hi friends, my name is Emily. I joined ASC in the fall because I wanted to meet new people and connect with the Asian/Asian American community at UW. Our ASC team is super rad, and getting to spend time with them has been one of my favorite experiences this year. Learning more about ASUW and Asian representation on campus is a great opportunity. The food is always a perk, too.
Social Justice: Jon Limawan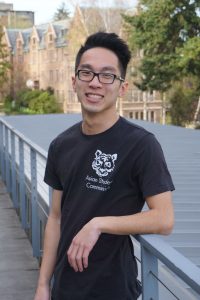 Junior | Information Systems
Hello! My name is Jon Limawan. I joined ASC was because I thought there were a lot of things that our community still needed. For example, after the election, there was not enough support system available for students and with hate crimes against our students that was not brought into public attention, I knew that the statement about racism being a thing of the past is false. What I like about being a part of ASC is that it allows me to not only be involved, but more importantly, being involved with the things that I care about: Social Justice. Going to meetings every Monday allows me to participate in discussions with other student commissions around campus about topics that pertain to social justice issues.
Logistics/Operations: Vipech Bun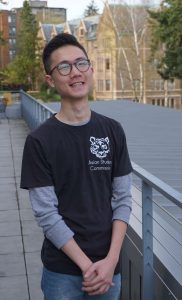 Freshman | Business Administration & Human Centered Design and Engineering
My name is Vipech, I am currently a freshman intended to double degrees in HCDE and Business. For a first year student, being part of ASC is both a great community while contributing to a bigger social aspect for Asian students here on UW campus. I joined ASC to help Asian students on campus feel welcomed with opportunities to immerse and embrace each others cultures through social events ASC coordinates. It has been such a memorable year overall, especially being able to see our events come to life after weeks of planning, promoting, and finally executing. Bites of Asia is my favorite part of ASC so far because it was such a large scale event where students get to raise money for their organizations while embracing their cultural cuisine and sharing it with families visiting for the Parents Family weekend. Overall I really believe in what the ASC stands for and I hope this program continues to impact student lives even years now.
2015 – 2016
Kenton Nakamura (Director)
Eric Chen
Sam Le
Teresa Ling
Annie Chang
Irene Shieh
Adele Lim
Linh Tran
Tim Lau
Marina Zhou
2014 – 2015
Johnson Nguyen (Director)
Rochelle Yuen
Eric Chen
Jenny Yang
Gigi Leung
Anran Lin
Emma Chiang
2013 – 2014
Tony Vo (Director)
Rochelle Yuen
Eric Chen
Colin Wong
Dan Vo
Ly Dieu Vu
Patricia Leo
Simeng Wang
Jamie Jiun Hwang