Get Involved
There are so many opportunities for personal growth and learning in the community! Check out some of these opportunities!
The Wing Luke Museum is looking for energetic summer camp counselors! You'd be responsible for working with young children to ensure they have a blast learning about Bruce Lee, food, and the world of sci-fi! Apply today! Summer Camp Counselor 2019[10861]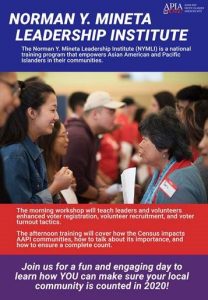 Check out the Norman Mineta Leadership Institute, an all day conference to increase the leadership and organizing power in the Asian community. Learn how to ensure the 2020 presidential campaign and 2020 census reflect what our community truly stands for!
In addition to paid student staff, the ASC team consists of interns and specialized leads to support its efforts in advocacy, outreach, and campus engagement. ASC also recruits volunteers to help out at various programs throughout the academic year, including our annual Talent Show and Bite of Asia. Upcoming opportunities will be posted on our ASC Facebook page.
We highly encourage student involvement in on and off campus API communities. Please feel free to contact us if you would like to chat about other ways you can get involved.
Public Charge
The Asian Student Commission is proud to be working with community groups to oppose Trump's proposed public charge which would make citizenship for those who use welfare or public services next to impossible
Internships
The Asian Student Commission is currently not hiring at the moment.