ASC is one of nine diversity commissions established by the Associated Students of the University of Washington. Through programming, outreach, and advocacy, we are devoted to empowering Asian/Asian American student voices on campus. Please join us at one of our many opportunities for collaboration, involvement, and education.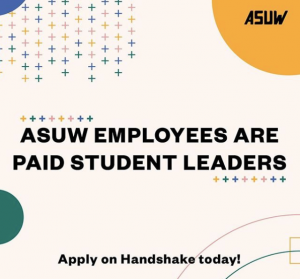 ARE YOU INTERESTED IN BECOMING MORE INVOLVED WITH ASC? We are excited to announce that the Director and Assistant Director position are now up for grabs on Handshake along with other ASUW paid student leader positions! Don't forget to spread the word and let your friends, who you think would be a great fit for the position, know as well!
ASC Director position is due April 19th at 11:55pm
ASC Assistant Director position is due May 3rd at 11:55pm
If you have any questions regarding the positions, email our current ASC Director Erica Owan at asuwasc@uw.edu or ASC Assistant Director Lu Song at asuwasc1@uw.edu.